Intl. CH,A.C, S.A.C., Camden's Midnight Hour in Pink, CDX, CGC, ATTS, GHC-T, LC

(2/13/88 to 11/14/2002-Mammary Cancer) ALL Foundations should be as solid as this !

Pink was ECHO CLEAR for LIFE !!!  and necropsy clear of DCM.  

Pink TWICE won HS Veteran at the UDC Natl. !

Pink was Thyroid Norm.,OFA Good, vWD-DNA Carrier,CERF, Liver- ALT Normal

Pink is pictured winning a 4 pt Major as a young girl, and winning HS Veteran

along with her HIT son Scottie owned by Jean Haley and her 3rd place daughter Zing.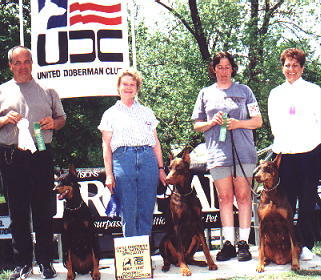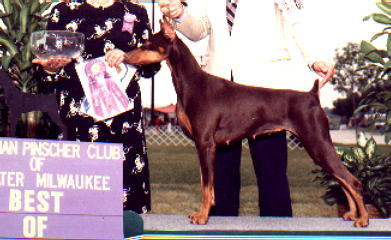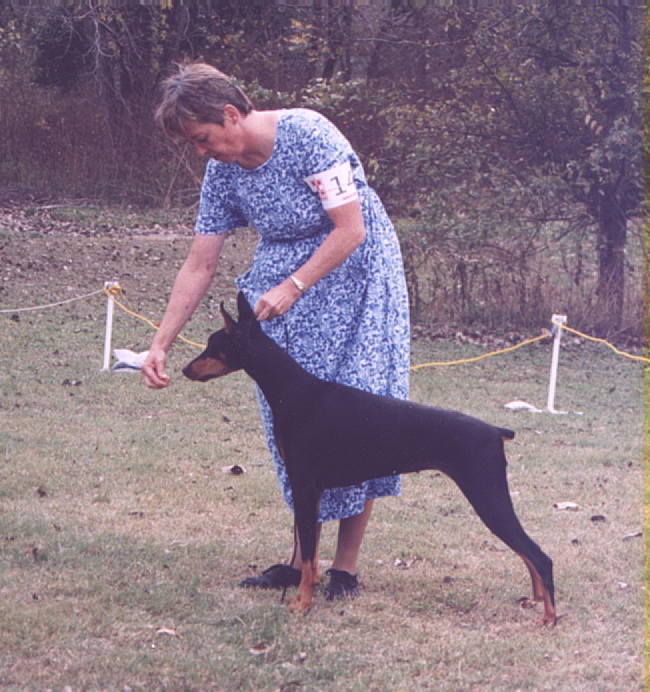 Intl.CH. Sentinel's Diana the Hunter, BH, WAC, YTT, ATT, ATTS, VC

(6/99 - present) (Merlin X Zysing)  OFA Hips Good & Elbows Clear, CHIC, vWD by DNA - genetically affected. 9/05 - Hunter is Echo Clear

5/08 Cadiac  (BNP) Liver (ALT) & Kidneys (ERD) & Thyroid Normal

6/08 CERF

Sentinel Spelcaster V Zysing, BH,CD, D-CD, ASCA-CD, ATT, ATTS, OB3, T2, VC, CGC

(5/93 - 2/03- DIC & Hepatic failure) (Bizzy X Pink)

Zysing was OFA Good, Thyroid Norm., CERF, vWD-DNA  Carrier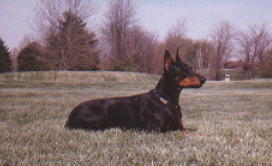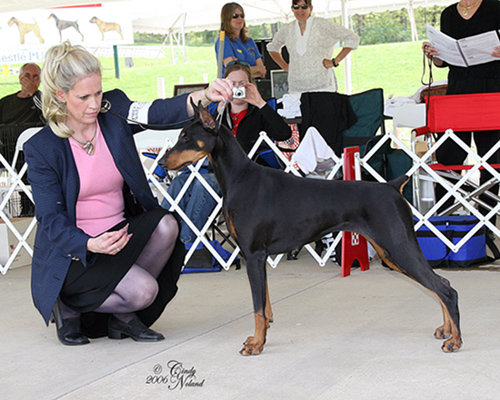 INTL CH Sentinel's  Galaxy , PTT

  'Star'   whelped 5/13/04 ( Amen-Ra X Hunter )

9/05; Holter-(3 PVCs/24 hrs)Clear.

5/08;  NORMAL; Cardiac (BNP) , Liver (ALT), Kidney (ERD) & Thyroid

6/08: CERF, vWD- genetically affected.

4X BOB Puppy wins in her first weekend out !!

2X BOS Puppy at 2005 UDC Natl. & passed her

PTT.   2 X BOB Youth at 2006 UDC Natl.