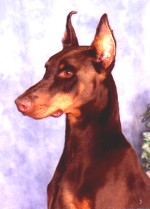 Intl. CH. Sentinel's Excalibur, BH, ATTS, YTT, SD, VC,  BFL-1

(Merlin X Sin) (12-4-98 to 2/08)

Echo clear- OFA Hips-Good, Elbows-Norm., vWD-DNA Affected

CERF, as of 9/05- Holter (1 PVC/24 hrs) normal, Thyroid,

6/07- Liver-ALT & Kidney-ERD Normal

Excalibur was also my personal Service Dobe.

It is said that when the World needs it most-

                   Excalibur will again appear !


Intl.CH. Sentinel's Merlin, SchH 3, CD, WAC, ATTS, STT, CGC, VC, OB3, FFB-VG1A, AFFB-VG1B, LC

(Bizzy X Pink) (5/93 -  death imminent due to neglect/abuse by David Stroff 7/04)

ECHO CLEAR (12/00)*, Hips-OFA Good, CERF(12/00)*, Thyroid- No Auto-Antibodies present (12/00)*, vWD-DNA Carrier,

Liver Norm.*, OFA Elbows

* Denotes outdated health tests due to former co-owner Stroff's negligence and contract violation. Stroff's wrongful retention of

Merlin prohibts my having these tests done. Complaints of abuse have been made on Stroff after the tragic events of 7/28/04.  

Sentinel's Conquer the Knight, UDX

(Bizzy X Pink) (5/93 - 3/01- Cancer) Frozen Semen available

Scottie was '97 HIT UDC Natl. winner and 2X DPCA TOP 20

OFA EXCELLENT Hips, OFA elbows, Thyroid Norm., vWD-DNA Carrier


Camden's Sunshine, UD,WAC,ATTS,CGC,TDI, VC,ThD,GHC-T,SchH1

(8/85-8/94)  Sunny is still deeply missed !

Sentinel's Specter, BH, CD, WAC, VC, LC

(Sunny X Pink)  (11/92- 7/05) Frozen Semen Available

OFA Good, Thyroid Norm., vWD Carrier